Oh no, I may have to wear the "fat" jacket. Disasters. How is it that my good intentions of ardently following a diet to enable me to look svelte and trim at the opening meet, have once again fallen victim to quite a lot of champagne and sausage butties? My Melton jacket has lurked in the wardrobe all summer where I have consistently only tried it on whilst wearing a thin T-shirt attempting to fool myself into thinking I can get it on easily and have room to move my arms and breathe at the same time whilst riding a horse. I hatch a plan to ask the tailor to secretly move my shiny new Masters hunt buttons over just a tad, whilst he is attaching my red velvet collar and replacing the buttons. When I discuss this with him he snorts with derision and hands me another jacket a whole size larger. "Much more flattering over your backside madam…. and warmer on cold days as you will actually be able to fit your shirt and waistcoat under it". I wince as he eyes me up and down over his glasses. Bummer. As I'm not planning to go naked under that jacket I fork out for the larger size. Sigh. In my head, I'm Kristin Scott-Thomas in Gosford Park as she nonchalantly hops the 5-bar gate in the opening credits, looking glamorous and willowy. In all reality, I look more like Dawn French in the incredibly funny and close to life riding sketch she did with Jennifer Saunders. Well-tailored but quite a lot of bulges.
On the morning of the Opening Meet I had managed to sleep well and was very much looking forward to starting the season. However, as the morning went on and I went about loading my lorry with the last few bits of equipment and then plaiting my horse Brooke, I began to get positively wobbly and then shaky with nerves. Plaiting ended up on auto-pilot but was completed OK. My legs were quite jellified by the time I loaded Brooke and was panting during the drive to Brockhurst School. Pull yourself together woman, I thought. I need a drink, I thought! After sardine tin parking, nowhere to put my mounting block and fingers feeling like bananas in my gloves, I was mounted and riding up the driveway to the school. I fiddled with the length of my stirrups, my chinstrap felt too tight, was my girth too loose? Was my girth too tight? My breeches waistband was too tight but no turning back now!
It was a glorious day with a huge field of over 70 mounted and lots of friends, families and visitors watching the event. Some of my old hunting buddies had come to see me off at my first opening meet and seeing them made me feel much less nervous. We had horses and ponies of all shapes and sizes but all glossy and beautifully turned out. What a sight! Shiny, pointers, cobs, showjumpers, coloured ponies and even a couple of lead rein ponies. Despite 3 glasses of port and lots of compliments my face managed to remain thin-lipped and stony in a kind of rictus grimace as the nerves took over. Photographs from the day show my bonny Brooke as cute as can be with me like a glowering school ma'am. I took charge of the second field, allegedly the novices, non-jumpers and folks who wanted a slower day. By the end of the second line I had lost all but two lead rein ponies and I'd like to think it was because they all found new confidence and were flying their fences, nothing to do with them fearing me and my face. The third line was led by the perpetually elegant, superb rider that is Lucinda Green. I got up the front and tucked in behind her. Watching her quietly but firmly negotiating the twisting line and knowing we were approaching a lovely big hedge, I remembered the advice I'd been given and given to others over the years. We soared over and my face finally split into a huge grin. The advice? "Kick on and ride your fences straight".
So if you were too scared to introduce yourself or speak to me at all on that day I can only apologise. I was rather nervous. Please try again! Appearances can be deceptive and the one thing I have learned about hunting and hunting folk is that whatever your age or experience we come across the same challenges and successes and you're never alone with your nerves. Kicking on in the field of life is always the best advice.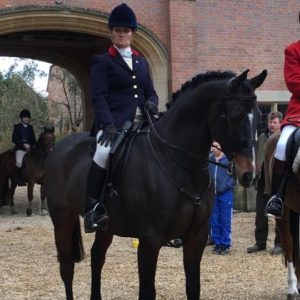 Jane Owen MDH and Brooke. (Eds note- not looking remotely huge but admittedly Brooke is more smiley)